Loop Head Adventures...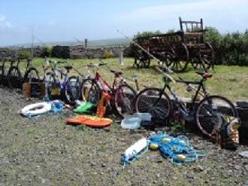 Mike Barnes, Fodra, Kilbaha, Kilrush, Co. Clare, Ireland.

Explore the unexplored of County Clare, the very tip, the last sod, where few have gone before you. Bring hiking boots and rain gear and a wet or dry suit for swimming. Cycle around for the day. Spend the weekends here, camping out in tents or staying at local Bed and Breakfasts.

Explore the cliffs of Loop Head.

Go beach combing via the beaches on both sides of the Loop Head Peninsula.

Hike the Bridges of Ross area and other areas known only to locals.

Visit the Church of the Little Ark of Kilbaha and Craft Trail Gilft Shop.

See the Battlements at the entrance to the Shannon Estuary.

Go swimming where few have ever ventured.

See caves and coves cut into the rocks by the wild Atlantic Ocean.

Go fishing off the rocks of Loop Head and on the beahes of Kilbaha. See fishing at Bridges of Ross.

Cycle for exercise and see all these areas while stopping for lunch and pint at The Lighthouse Inn, Kilbaha or at Keating's New Quay Pub.

Hill and road walking on both sides of the Loop Head Peninsula.

Day trips organised.


You can visit Loop Head Adventures's webpage at Loop Head Adventures
Or e-mail them by clicking here
Rental Hire Rates: Bicycles @ €15 per day.
Fishing
Rods @ €15 per day; Snorkelling including equipment @ €30 per day.
Coffee Shop, Fishing Tackle and Gift Shop on site.
Open: St. Patrick's Day to October. Weekends: 8.00am-8.00pm. Weekdays by appointment or scheduled guided trips
Contact:
Mike Barnes, Proprietor.
Tel:
+353 (0) 65 - 905 9233
Mobile:
087-664 0605
or email or visit the web site by clicking on above link.
Clare Activities
Aloha Surf School
-
Clare beaches
-
Burren Adventures Dive Centre
-
Caving, Pot-holing and Mountaineering
-
Children's Activities
-
Cruise / Boat Trips
-
Dolphin Discovery
-
Dolphinwatch
-
Doolin Pitch & Putt
-
Ennis Leisure Complex
-
Golfing and Pitch 'n' Putt
-
Lahinch Surf School
-
Loop Head Adventures
-
University Limerick Activity Centre
-
Walking, Hiking and Cycling
-
Watersports and Fishing
-