Beaches...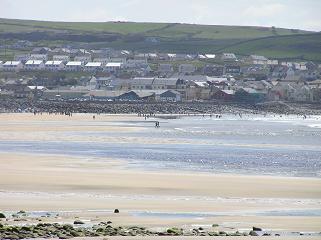 Clare has some of the most beautiful beaches in County Clare. They range from quiet secluded beaches to spend lazy days swimming and sun bathing to busy beaches which are a hive of activity with a range of watersports including surfing, body boarding and diving.

Bishops Quarter
This picturesque strand near Ballyvaughan, North Clare, though stony in parts this long beach has stunning views across Galway Bay and of the Burren.This beach is located a mile north of the village on the N67 and is accessed by a narrow byroad which is signposted. Facilities: Life guard, Car park.

Mountshannon
Mountshannon is a small shingle beach located on Lough Derg (one of the major freshwater lakes of Ireland ).This lakeside bathing area is well serviced. Facilities: blue flag, the beach is lifeguard patrolled during the bathing season, changing room and toilets.

Kilkee beach and rock pools
The beach is located beside Kilkee village East Clare on the N68 road from Ennis, or the N67 from Kilrush or Killimer. The mile-long sandy beach is gently sloping and sheltered from the Atlantic weather. To the south of the beach, in the flat rocks, are a number of natural swimming pools, known as 'Pollock Holes', replenished with fresh sea-water at every tide, and ideal for children and uncertain swimmers. The diving boards at New Found Out allow for dives of up to 13 metres (45 feet) into the open sea. Facilities: Lifeguard, Parking, nearby indoor swimming pool, dive centre, marina and surf school (hold classes in summer). This is a Blue Flag beach

The Flaggy Shore
The main attraction in New Quay is the breath-taking coastline and the Flaggy Shore walk, this circular walk along the flaggy beach takes in a bracing stretch along the Atlantic coast which is second to none in beauty. You can also swim here. Facilities: Parking.

Fanore beach
This beach is located on the R477 road between Ballyvaughan and Doolin North Clare, in the village of Fanore/Murroogh, and accessed by a narrow road. With the Burren landscape as backdrop this coast road is simply breathtaking. The beach is long sandy and safe but the sand dunes near it have been developed into a caravan park which detracts a bit form the view. Facilities: Lifeguard, car parking, and surf school. This is a Blue Flag beach

Gleninagh Pier
A few kilometers north of Fanore is Gleninagh pier. This is a very popular swimming place with locals. This area is a real unspoilt haven, the regular catch of weeverfish points to its cleanliness.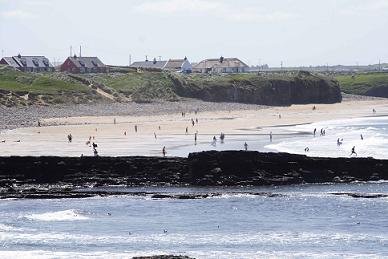 Lahinch beach
This beach is located at the village of Lahinch on the N67 road between Miltown Malbay. Its widely considered one of Irelands finest beaches and is a hot spot for surfing. There is a promenade along some of its length but the strand seems never ending. Stunning in both summer and winter this beach is a must see. Facilities: Lifeguard, parking, indoor pool, surf school, kitesurfing school. This is a Blue Flag beach
Clahane
Near
Liscannor
is Clahane, it's a lovely rocky spot that's a little way off the beaten track. Its a popular walking and running area as it has panoramic views of Liscannor Bay and beyond to
Spanish Point
and Mutton Island. It is also a good place to swim.
Spanish Point
This Blue Flag beach is located at Spanish Point village on the R482 road between
Miltown Malbay
and Quilty. Spanish point has a beautiful long sandy beach and its sheltered location makes it very safe. It's a popular location for surfing. Facilities: Lifeguard, Parking.
Kilmurvey Beach ( Cill Muirbthe) Aran Islands
Kilmurvey beach is a really beautiful, uncrowded beach. It is located on Inishmore the largest of the Aran Islands. Just a short walk from Dun Aengus and Kilmurvey village is this blue flagged beach which is patrolled by a life guard. Facilities: Blue Flag
Trá Inis Oirr -Inisheer Beach
This beach is on the north side of Inisheer, Aran Islands. This bleached white strand is very popular with islanders and tourists.
Whitestrand beach, Miltown Malbay
This beach is located about two miles northeast of Miltown Malbay town off the N67 road to
Lahinch
accessed by a narrow road. This is a relatively small sandy beach with rocky shoreline. It's a lot quieter that Lahinch and
Spanish Point
during the busy tourist season and there are nice walks around the headland.
Cappa beach
Cappa is a small rocky beach just by Cappa pier and harbour, a short distance from Kilrush and Scattery Island. It is
Shannon
estuary's only blue flag beach. Cappa is located on the R473, 1km from Kilrush which is the closest town. Facilities: Blue Flag, life guard, parking and toilets
White Strand, Doonbeg
Doonbeg's White Strand has Blue Flag status and is a popular and very safe sandy beach for swimming.
Doughbeg, Doonbeg
Closest to the village, Doughbeg is very safe for swimming with a gently sloping beach running into the calm waters of the bay.
Doughmore, Doonbeg
Doughmore is backed by world famous Trump International
Golf
Links, it is a 2.5 km long beach and has great surf but not suitable for swimmer's due to shifting sand.
Blue flag:
The Blue Flag award is an exclusive eco-label awarded in 28 countries in the Northern Hemisphere. It symbolises high standards in water quality, safety and services.
Lifeguards:
Lifeguard times can be viewed by searching www.blueflagireland.org or by checking out the information notice board at the beach. Always check that there is a lifeguard on duty never just assume.
Clare Activities
Aloha Surf School
-
Clare beaches
-
Burren Adventures Dive Centre
-
Caving, Pot-holing and Mountaineering
-
Children's Activities
-
Cruise / Boat Trips
-
Dolphin Discovery
-
Dolphinwatch
-
Doolin Pitch & Putt
-
Ennis Leisure Complex
-
Fishing
-
Golfing and Pitch 'n' Putt
-
Lahinch Surf School
-
Loop Head Adventures
-
University Limerick Activity Centre
-
Walking, Hiking and Cycling
-
Watersports
-