Beaches...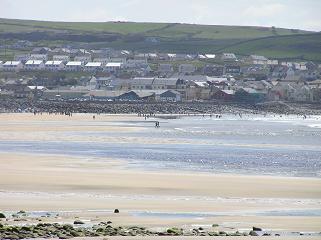 Bishops Quarter
This picturesque strand near Ballyvaughan, North Clare, though stony in parts this long beach has stunning views across Galway Bay and of the Burren. This beach located few miles past the village on the R447 road from Ballyvaughan to Fanore and is accessed by a narrow byroad which is signposted. Facilities: Life guard, Car park.

Kilkee beach and rock pools
The beach is located beside Kilkee village East Clare on the N68 road from Ennis, or the N67 from Kilrush or Killimer. The mile-long sandy beach is gently sloping and sheltered from the Atlantic weather. To the south of the beach, in the flat rocks, are a number of natural swimming pools, known as 'Pollock Holes', replenished with fresh sea-water at every tide, and ideal for children and uncertain swimmers. The diving boards at New Found Out allow for dives of up to 13 metres (45 feet) into the open sea. Facilities: Lifeguard, Parking, nearby indoor swimming pool, dive centre, marina and surf school (hold classes in summer). This is a Blue Flag beach

Fanore beach
This beach is located on the R477 road between Ballyvaughan and Doolin North Clare, in the village of Fanore/Murroogh, and accessed by a narrow road. With the Burren landscape as backdrop this coast road is simply breathtaking. The beach is long sandy and safe but the sand dunes near it have been developed into a caravan park which detracts a bit form the view. Facilities: Lifeguard, car parking, and surf school. This is a Blue Flag beach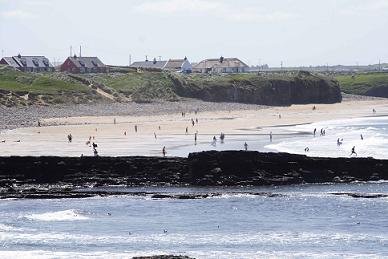 Lahinch beach
This beach is located at the village of Lahinch on the N67 road between Miltown Malbay. Its widely considered one of Irelands finest beaches and is a hot spot for surfing. There is a promenade along some of its length but the strand seems never ending. Stunning in both summer and winter this beach is a must see. Facilities: Lifeguard, parking, indoor pool, surf school, kitesurfing school. This is a Blue Flag beach
Spanish Point:
This Blue Flag beach is located at
Spanish Point
village on the R482 road between
Miltown Malbay
and Quilty. Spanish point has a beautiful long sandy beach and its sheltered location makes it very safe. It's a popular location for surfing. Facilities: Lifeguard, Parking.
Whitestrand beach
This beach is located about two miles northeast of Miltown Malbay town off the N67 road to
Lahinch
accessed by a narrow road. This is a relatively small sandy beach with rocky shoreline. It's a lot quieter that Lahinch and Spanish Point during the busy tourist season and there are nice walks around the headland. Facilities: Lifeguard, parking. This is a Blue Flag beach
Blue flag:
The Blue Flag award is an exclusive eco-label awarded in 28 countries in the Northern Hemisphere. It symbolises high standards in water quality, safety and services.
Lifeguards:
Lifeguard cover normally extends from 11.00 to 19.00, Saturdays, Sundays and Bank Holidays in June, July and August 6 days per week including Saturday Sunday and Bank Holidays. In September Saturday and Sundays weather dependent. Always check and don't assume there is one on duty.
Clare Activities
Aloha Surf School
-
Clare beaches
-
Burren Adventures Dive Centre
-
Caving, Pot-holing and Mountaineering
-
Children's Activities
-
Cruise / Boat Trips
-
Dolphin Discovery
-
Dolphinwatch
-
Doolin Pitch & Putt
-
Ennis Leisure Complex
-
Golfing and Pitch 'n' Putt
-
Lahinch Surf School
-
Loop Head Adventures
-
University Limerick Activity Centre
-
Walking, Hiking and Cycling
-
Watersports and Fishing
-