Watersports and Fishing...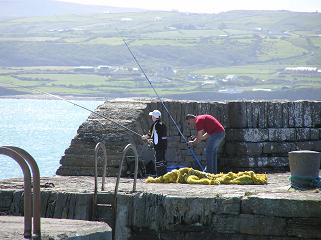 Watersports and Fishing
County Clare's waterways and coastline can provide a unique experience for everyone, a huge range of sightseeing, cultural and outdoor activities. For total relaxation why not try casting a line into calm canal waters or lakes, into the Atlantic waves or the fast flowing waters of the rivers.
County Clare
has a wealth of rivers and lakes and miles of coastline, which means wherever you are in
Clare
you're not far from a great
fishing
spot.
There is excellent angling for all species of coarse fish, on the River
Shannon
and on its largest lake, Lough Derg, east Clare. Boats can be chartered from many places along the Shannon Estuary including
Killaloe,
Portumna and Mountshannon and fisheries are well serviced for bank and boat fishing.
The villages of Tulla, Broadford & Feakle are surrounded by some 30 to 40 lakes collectively referred to as the East Clare Lakelands. Some of the lakes on the River Fergus system, north
Clare
are especially good for Pike and Perch. Among the most popular are Ballycullinan, Cullaun, Tullymacken, Ballyteighe and Ballyala. The village of Corofin is at the centre of this system and all lakes are within an 8 mile radius.
The Clare coast line is famous for its shore angling which can be done at
Fanore,
Doolin,
Liscannor
and Lahinch. Deep sea angling can also be arranged locally. Boats can be chartered from Kilrush Marina, Liscannor Bay,
Miltown Malbay
and Quilty. All of these beaches provide good shore angling for pollock, bass and mackerel.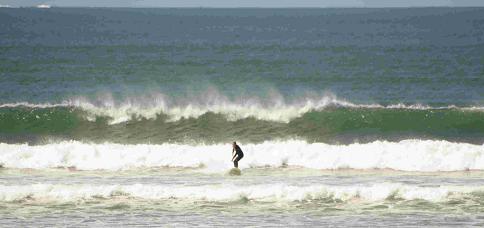 For sheer exhilaration try at one of the many
watersports
on offer such as canoeing, kayaking, sailing, waterskiing and surfing. Lough Derg, the
Shannon
River and the coast line all offer a myriad of centres catering to watersports.
At Fanora, north
Clare
you can rent body boards or learn to surf at a local surf school, while out in the water you may even see a friendly dolphin which has been spotted frequently in the bay.
Lahinch
and
Spanish Point
are famed for their waves and if surfing isn't enough of a thrill you can go kitesurfing or windsurfing at Lahinch.
Kilkee,
south west Clare is well know for it wealth of spectacular dives. Jacques Cousteau declared that it was the best
diving
spot in Europe. The
Kilkee
Dive Centre, is a fully-equipped and caters to both beginners and experts. The Diving Centre offer shore dives from the Duggera Rocks and boat dives from the Black Rocks further out. Divers can go to depths from 10 metres (32 feet) to 45 metres (147 feet). The diverse marine life attracts divers from all around the world. Snorkelling and sailing are also popular in Kilkee, and the surf school holds classes during the summer months.
Lough Derg is a mecca for watersport enthusiasts, activity centres along the shoreline provide all you need for sailing, windsurfing, and canoeing. Water-skiing is also immensely popular here.
Centres for
Watersports
include:
Kilkee Waterworld
Aloha Surf School
Shannonside Activity and Sailing Centre
UL Activity Centre
Kilrush Creek Activity Centre
Kilrush Marina
Burren Adventures Dive Centre
Loop Head Adventures
Orbitalwinds - Lahinch Kitesurfing School
Lahinch Surf School
Clare Activities
Aloha Surf School
-
Clare beaches
-
Burren Adventures Dive Centre
-
Caving, Pot-holing and Mountaineering
-
Children's Activities
-
Cruise / Boat Trips
-
Dolphin Discovery
-
Dolphinwatch
-
Doolin Pitch & Putt
-
Ennis Leisure Complex
-
Golfing and Pitch 'n' Putt
-
Lahinch Surf School
-
Loop Head Adventures
-
University Limerick Activity Centre
-
Walking, Hiking and Cycling
-
Watersports and Fishing
-