Carron...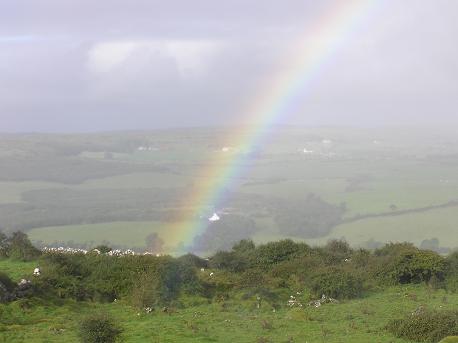 Carron is a tiny rural village in the heart of the Burren in north county Clare Ireland.

Ancient archeology is everywhere to be seen around Carron, and the ancient megalithic tombs such as Poulnabrone Dolmen and the Celtic sites such as Caherconnell Stone Fort show that this area has been lived in since ancient times. Carron was home to the famous Irish Brehon (traditional) law school of the O'Dubhdabhoireann family whose famous legal tracts are preserved in the British museum in their original Gaelic.

The tombs of first farmers, described as 'megalithic', which means 'great stones', are impressive monuments over the graves of their dead. By and large the most outstanding tomb from that period is the portal dolmen at Poulnabrone, it dates from c.3600 BC. Caherconnell Stone Fort is an exceptionally well preserved Celtic ring fort (ancient protected family homestead).This fort and other sites like it would have been inhabited from around 500 to 1500AD.

Turning right as you leave the village, one will come across Temple Cronan, a 12th century medieval church. It has some fascinating carved grotesque Romanesque heads on its exterior wall. In the church yard there are two Cumdachs for bones built by St. Cronan. Near the church is the holy well, Tobar Chronain, at which stations are performed.
The wealth of archeology in the Carron area has attracted many archaeologists including The Harvard Archaeological Expedition in the 1930s. They excavated
Poulawack cairn
, a bronze age burial mound.
A short distance away at
Cahercommaun stone fort
excavations were also made. The 7th -10th century fort built at the edge of the steep cliff, consists of three concentric massive stone walls, the outermost 130 meters in diameter.
The
Burren
is famous for it botany and alpine and Mediterranean flora, for this reason Carron has become home to Ireland's only working perfumery. It is also the reason so many amateur botanists visit the region each year. The nature of the terrain and the traditional methods of farming have left the Burren unspoilt. A wide range of fauna thrives in this undisturbed region. Irish hare, rabbit, feral goat, bats, fox, badger, pine martin, stoat and red squirrel are all commonly spotted.
Carron is also home to a number of fine
Burren
views and no trip to see the area is complete with out a drive through the Carron valley and on to the famous Mullaghmore mountain.
There are many types of accommodation available near Carron from
hotels
to
bed and breakfasts
and
hostels
. The
pubs
in the region provide a wide variety of entertainment with traditional music being popular and the area is home to a number of fine restaurants. There are several opportunities to shop in
Carron,
Caherconnell Visitor Centre have a beautiful gift shop, you'll find lovely gift sets at the Burren Perfumery and Hazel Mountain Chocolateers will satisfy every sweet tooth.