CycleWest Ireland ...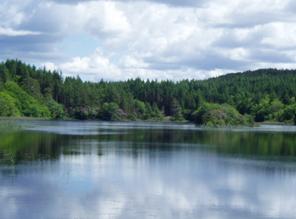 Adventure cycling vacations in the West of Ireland
CycleWest Ireland
is an Irish Company with International experience. We use our local expertise and first hand knowledge of Ireland to combine the best of routes and custom itineraries. Enjoy the freedom of exploring the heartland of Ireland while we take care of your luggage. Immerse yourself in the Irish hospitality, the history and folklore, traditional music and the ever changing scenery.
We ride along the remote backroads of
Connemara
or the limestone hills of the
Burren
National Reserve. We explore the wonderful traditions of the Aran Islands and Inisbofin. Second to none are our self guided routes of the
Dingle Peninsula
and the
Ring of Kerry
. Onward throughout the land of legends and giants, the
Causeway Coast
and
Glens of Antrim
. We would like you to celebrate the unique landscape and culture that Ireland has to offer. As of 2006 we extend this mission to our partner tours in France and Italy. Our new selection of tours enhance our niche offering as a unique and personal tour provider.
You can visit CycleWest Ireland 's webpage at CycleWest Ireland
Or e-mail them by clicking here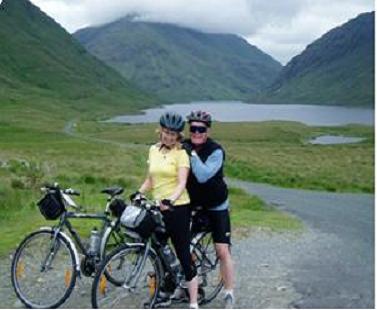 Our strengths and core support is made of a team of talented leaders and experienced support. One of our most loyal, experienced and dedicated guides is Patsy McGurk. Patsy is much loved by our past and present participants. With over 12 years guiding under his belt, Patsy cycles in Spain, Nova Scotia, Prince Edward Island and Ireland. He is qualified in first aid, is a qualified masseuse and certified bike mechanic. He will happily recount his travel tales over a pint of Guinness any time!
CycleWest Ireland
Tours are designed for bike riders at every level. Cycle at your own pace. Ride alone or with a group. The choice is yours. We offer you the opportunity to feel the wind in your hair, an abundance of local culture and the best dinners at the end of each day's biking - if you find this appealing, then this is the trip for you!!
To contact us:
Tel: Ireland Direct: (011) 353 09 861001
Tollfree USA: (800) 204 1452
USA and Canada: (404) 255 7998
Address:
CycleWest Ireland,
Unit 3b Business Innovation Centre,
National University of Ireland, (NUIG), Galway City, Ireland
or to visit our web site or email us click on above link.