Self Drive Route Planner...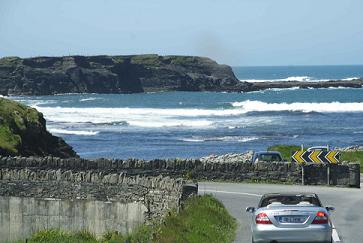 When planning your travel, do not under-estimate the time it will take to get between any two points, calculate averaging 30 miles/50 kilometres in an hour, and less if travelling primarily minor roads.

If you are a visitor to Ireland it is important that you are aware of the national speed limits. Driving in excess of the speed limit may result in an on-the-spot fine. There are a total of five different types of speed limits throughout Ireland:

1. Town / city built up areas - 50km/h
2. National Roads & Dual Carriageways - 100km/h
3. Regional & local roads - 80km/h
4. Motorways - 120km/h
5. Special speed limits - 30km/h or 60km/h. These are often applied to designated roads on the near built-up areas or schools.


The table below gives a rough guide to driving distances between locations in Ireland.
From
To
Distance
Driving Time
Shannon Airport
Ennis
23km
0hours 21mins
Kilbaha, Loop Head*
Ballyvaughan*
96km
1hours 40mins
Belfast
Limerick
366.37 Km
4hours 4mins
Cork
Belfast
422.04 Km
4 hr 39 min
Dublin
Cork
252.77 Km
2 hr 46 min
Dublin
Galway
208.04 Km
2 hr 16 min
Malin Head
Mizen Head
677.71 Km
9hours 38mins
Rosslare
Cork
191.47 Km
2hours 45mins
Sligo
Rosslare
320.19 Km
4 hr 32 min
* County Clare's most Southern and Northern Towns.
To plan a route and find out driving directions and driving distances -
AA Roadwatch
is Ireland's premier traffic and travel information service. Along with its route planner service it gives traffic updates, a city parking guide, ferry information and flight delays.