Ennis...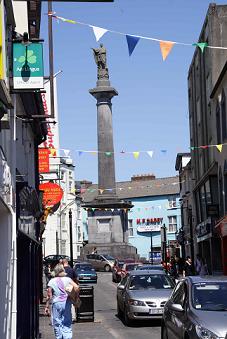 Ennis, the largest town in Co. Clare, is located in the centre of the county on the river Fergus. The town of Ennis grew up around a 13th century friary established by the powerful O'Brien clan. It was a centre for ecclesiastical study in its day with several hundred students studying theology in its schools. The friary is still very well preserved and is open to visitors.

Marking and dominating the centre of the town is a column and statue of Daniel O' Connell, a well-respected politician affectionately named "the Liberator". Leading out from this are narrow winding streets which give an old town feel but today Ennis is a progressive business and marketing town.

To get a feel for the history of Ennis and Clare there is Clare Museum, Ollies Tours and Ennis walking tours. Clare Museum is housed in a former nunnery and chapel, it exhibits "The riches of Clare, its people, place and treasures" and is open all year round. Ennis walking tours make history come alive; mythology, legends, ghosts, poverty, murder and more are all covered on lively and entertaining guided walking tours through the winding streets of medieval Ennis. Ollies Tours give walking and cultural tours of Ennis, where you will be guided through the narrow streets of Ennis whilst being entertained along the way by your tour guide, then you get the opportunity to take part in the 'Everything Irish Workshop' where you will be given an introduction to all things Irish. This tour is specifically aimed at bringing people together in a fun and interactive way.

Ennis is a stronghold of music of all types from rock to traditional Irish music with many musicians living and regularly playing in the Ennis pubs . The town is host each May to the annual Fleadh Nua, a traditional music festival and is home to the Glor Irish Music Centre, which hosts music concerts and plays. The town has numerous festivals throughout the year from music and dance festivals to book and art festivals.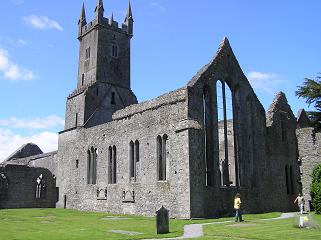 Ennis is built on the river Fergus, a recent riverside development makes a pleasant walk along this river. Some superb pieces of sculpture have been erected on this walk, plus the river is a well-known trout and salmon fishery, there are a couple of tackle shops in the town for supplies.
There are plenty of outdoor activities on the outskirts of
Ennis,
there are a number of horse-riding centres, paintballing, golf, Dromore woods walks and clay pigeon shooting. For indoor activities there is The Planet; Clare's best family entertainment centre offering something for all the family. They offer a huge range of activities: bowling, tumble towers, laser tag and astro-turf football, and for younger kids there is Dennisís Den.
Ennis has a wide variety of tourist accommodation from
Hotels
to
bed and breakfasts
and
hostels
. There is also a number of
self catering
accommodation to choose from. There is plenty of opportunity for shopping from clothes boutiques to jewlery. For local crafts and souvenirs the town has a market day on Saturdays, a craft market at Chapel Lane and Craft Works is a craft shop stocking unique craft items from artists from Co. Clare. Ennis
restaurants
serve a variety of food for every taste and budget. With its narrow, meandering streets and relax rural outlook this is a west of Ireland town not to be missed.