Kilfenora...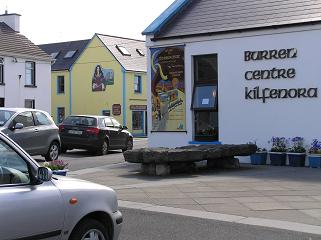 Kilfenora is located in the north west of county Clare Ireland, half an hour drive from Ennis. Kilfenora is the gateway to the Burren region and is a village rich in history and culture. It makes an excellent base for a visit to the Burren, it is also a good base for those on a golfing holiday with courses such as Lahinch and Doonbeg quite close and the rest of Clare's courses within an hours drive.

The Burren Centre in Kilfenora is a co-operative local enterprise and is dedicated to bringing local flora, archaeology, geology and legends to life.

The history of Kilfenora goes back thousands of years. It was the site of an important early monastic settlement; St. Fachtna founded an Abbey here in the sixth century. Kilfenora was among the most important dioceses in Ireland in Medieval times and due to a complicated series of events of ecclesiastical history, the Catholic bishop of Kilfenora is the Pope!

Kilfenora gained the title "City of the Crosses", a reference to the High Crosses within or near the precincts of the cathedral. It is believed that there were seven high crosses here. They are beautifully carved and date to the 9th - 10th century.

As Kilfenora grew around the monastic settlement it became a place where farmers could converge to sell their livestock and crops and enjoy the social contact of a visit to a market town. Fair days were commonplace in Kilfenora up to the 1960's.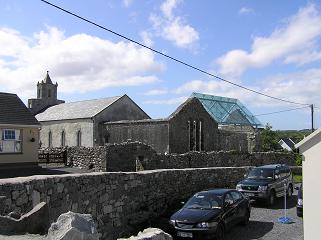 There are many types of accommodation available in Kilfenora
bed and breakfasts
, self catering accommodation and a
Hostel
. Many people base themselves at Kilfenora as its the ideal base for all fishermen alike. There are numerous lakes also in the locality: Likeen Lake, Lough Lake and Lough Inciquinn have stocks of brown and rainbow Trout; there is a small fee which is payable before hand. Coarse
fishing
(Pike and Rudd) is also popular on some of these lakes. Nearby
Doolin
is a small fishing village on the coast and is steeped in
fishing
tradition. Deep sea angling can be arranged with local charters on a daily basis. Shore fishing for Mackrell, Pollack and Dog fish is also common all along the coast,
Liscannor
and
Fanore
are popular spots.
There are a number of lively pubs in the village where one is likely to find Irish music being played in the evenings and set dancing. Kilfenora is the home of the
Kilfenora Ceili Band
, one of Ireland's most famous ceili bands. A group of musicians came together in 1907 with the intention of raising funds for the local church and to play at local houses or cross road dances. They went on to become a household name in Ireland and beyond. The 1950's was the golden era of ceili dancing in Ireland. In the 1960's the band played regularly in England. Huge crowds turned out to hear them. Set dancing and traditional music is still very important to the town.
Kilfenora has a number of shops where you can find great souvenirs of local arts and crafts, there is a cafe and pubs in the town offer traditional Irish fare.