Spanish Point ...
---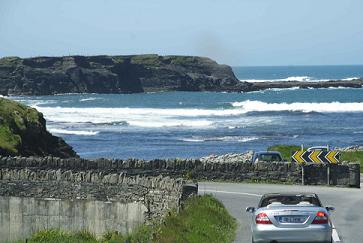 Spanish Point is located on the west coast of county Clare Ireland. Spanish Point takes itís name from the unfortunate Spanish who died here in 1588, when many ships of the Spanish Armada were wrecked during stormy weather. Those who survived the wrecking and sinking of their ships and made it to land were executed by Sir Turlough O'Brien of Liscannor and Boethius Clancy, High Sheriff of County Clare at the time.

Now days Spanish point is a lot more welcoming to itís visitors and is home to many holiday homes. People enjoy the beach and seaside activities that are available here during the summer however in winter the population falls dramatically.

In the early nineteenth century Thomas Moroney built the Atlantic Hotel and for a time it rejoiced in the title of the largest hotel in the British Isles. The seaside resort developed as a refuge for the aristocracy and some of the lodges can still be seen today although only a small portion of the hotel ruin remains.