Fanore...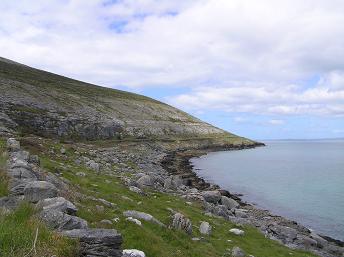 Fanore is a small seaside village on the north west coast of county Clare Ireland. It has a fine long beach and extensive sand dune system. It is a popular swimming place. The Caher River (the only river in the Burren to flow its entire course above ground) enters the sea here. This river travels down the Caher valley which is one of the Burrens finest sites for observing true Burren scenery as well as Burren Flora and geology.A small road runs along it course down the valley, which makes a fantastic route for a cycle or even better a hike.

Fanore is located on the main road from Doolin to Ballyvaughan and this road is well worth a drive on your visit to the Burren. It has some fantastic views on a clear day. Fanore is a haven for anglers who enjoy fishing for the rocks along this coast road as far as Black head on the road to Ballyvaughan. This area is a real unspoilt haven, the regular catch of weeverfish points to its cleanliness, and makes it a popular location for fishing competitions. The village shop sells bait and is a good source of local knowledge of the best spots to fish in. This tiny village also has a bar/restaurant and post office.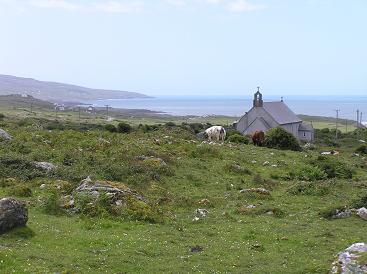 You can rent body boards or learn to surf at a local surf school, while out in the water you may even see a friendly dolphin which has been spotted frequently in the bay. There is lots of opportunities for rock climbing in the area. Ailladie - The Blind Man's Cliff is an 800m long limestone sea cliff is one of the more popular climbs in the area.
The Caher Valley and Caher River probably take their names from the fact that there are so many Celtic ring forts or cahers in the immediate vicinity. St. Patrick's Church which lies at the entrance to the valley, beside the river was built in 1870. Past the bridge, is a fulacht fiadh or ancient cooking place to the south of the road.
There are many types of accommodation available in Fanore, from
bed and breakfasts
to caravan and campsites. Self catering accommodation is also widely available. There are a number of great
pubs
in the local area where one is likely to find Irish music being played in the evenings. There are several fine local
restaurants
along the coast road which specialise in seafood.