Miltown Malbay...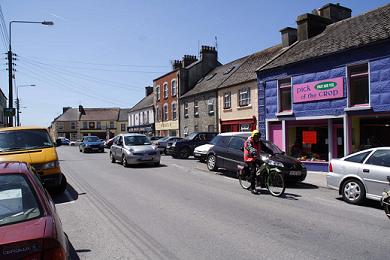 Miltown Malbay is located in the west of county Clare Ireland just slightly inland from Spanish point and the Wild Atlantic Way, it is a 40 minutes drive from Ennis. This is one of Irish musics cultural homelands along with Doolin further north.

Miltown Malbay as its name suggests was a hub to which local farmers brought there grain to be milled. The town once had five corn mills, of which the ruins of three can still be seen. Although not on the coast the town takes the second part of its name from neighboring Mal Bay. Mal, in ancient Irish folklore, was a witch or fairy woman who pursued Cuchulain at nearby Loop Head. She drowned in an attempt to emulate the hero's long jumping prowess, her body was washed ashore at Malbay


Miltown's renown rests on the fame of a number of local musicians, singers and dancers who performed with a distinctive style, the best known of whom was
Willie Clancy
. There is a yearly Irish music
festival
called the
Willie Clancy
Week (early July) dedicated to this particularly renowned performer - he could play pipes, the whistle, sing and tell stories.
Wille was and is by far the best known of a number of local performers who gave the area it's current status. It plays host to the largest Irish music summer school in the world. It is worth bearing in mind if you intend on visiting Miltown Malbay during the
Willie Clancy
festival that due to the large numbers of visitors, parking and accommodation are difficult and sometimes impossible to find in the town.
A stones throw from the village and on the
Wild Atlantic Way
is beautiful, sheltered,
Spanish Point
beach
, a blue flag beach manned by a lifeguard. This picturesque beach is very safe to swim. Whitestrand
beach
is located about two miles northeast of Miltown Malbay town off the N67 road to
Lahinch
accessed by a narrow road. This is a relatively small sandy beach with rocky shoreline. It's a lot quieter that Lahinch and Spanish Point during the busy tourist season and there are nice walks around the headland. It has a lifeguard and parking and is a Blue Flag beach.
There are many types of accommodation available in Miltown from
hotels
to
bed and breakfasts
. The
pubs
in the town provide a wide variety of entertainment with traditional music popular.