Lahinch...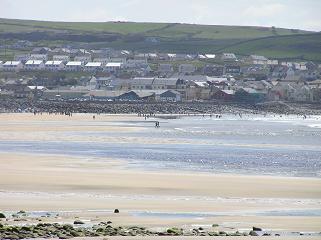 Lahinch is a coastal village on the west coast of County Clare Ireland. This is a town on Liscannor Bay just south of Liscannor village and the Cliffs of Moher . Lahinch is one of Ireland's most popular seaside resorts offering visitors great variety, it has a one-mile stretch of golden sandy beach, spectacular scenery, great nightlife and two golf courses one of which is very famous.

Lahinch's golden beach is a hive of activity all year round. It is a blue flag beach; meaning it is clean and safe to swim in and is manned by a lifeguard. It is a beautiful beach to walk and when the tide is in there is a long promenade which can also be walked extending on to a gravelled path leading along beside the golf course. Lahinch is acclaimed for the top quality surfing conditions available offshore. Indeed, the Guinness record for number of surfers on a wave is held by Lahinch. Surf lessons and equipment for hire are available in the village by a number of shops. Other water sports including kitesurfing, suba diving, snorkling and windsurfing are catered for as well. Just across from the beach is a decent sized playground.

The village is famous for its classic links golf course, it is host to every major Irish Amateur competition and the Home Internationals. The course combines deep valleys, blind shots to greens hemmed in by hills on 3 sides and huge sand dunes and the views are breathtaking. There is also the Castle Course Golf Links in the village and there is a pitch-in-putt course two kilometers outside the town on the road to Liscannor.

All-weather facilities at this seaside resort include an indoor pool, arcade, massage,yoga,pilates, fantastic shops offering gifts from Ireland, including Waterford crystal, knitwear, jewellery, golf attire, wool, belleek and pottery, a couple of art galleries and a bookshop.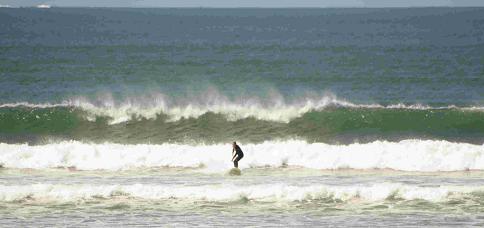 For a unique food experience check out Wild Kitchen. Based in Lahinch Wild Kitchen offer some-thing different, guided wild food walks on land and seashore. Join them to discover and identify delicious, edible, wild plants and enjoy all that the land has to offer.
There are a couple of interesting ruins in the Lahinch area. North of the village on the
Liscannor
Road may be seen the remains of Dough Castle. It was originally founded by the O'Connors in 1306. It was described as a tall battlemented tower with a two-storey dwelling house attached to one side in 1675. The present ruin is the result of poor foundations (mainly sand) rather than the ravages of war. Only one wall now remains of Dough Castle. The sandhills are supposed to be the haunt of Donn Dumhach, the Fairy King. Kilmacreehy Church is an early twelfth-century parish church built on the site of MacCreiche's famous sixth- century school. Of its most interesting features is a carved head with flat medieval head-dress topped the pointed hood which terminated here with serpents of different styles. One of these serpents which looks as if it were holding a bone or bar cross-wise in its jaws has been associated by people with the legend of a corpse-eating eel from the sea.
Lahinch makes a good base for a visit to the the
Burren
and the the
Cliffs of Moher
. It is also a popular place to base yourself for a golfing holiday in
Clare
with its reasonable proximity to
Doonbeg
and
Ennis
golf courses
. It also makes a great stop on the
Wild Atlantic Way
route.
Lahinch has a wide variety of accommodation options from
hotels
to
bed and breakfasts
and Hostels as well as campsites, caravan parks and
self-catering
accommodation. Lahinch is one of Irelands oldest resort towns and has been a popular holiday destination for over a century. Lahinch has a good selection of
pubs
which are lively all summer long, there is a good mixture of live music to be found from traditional to rock to folk, and there are two nightclubs in the town. The village has a great selection of
restaurants
and
cafes
.