Clare-Tour.com Information for visitors to Clare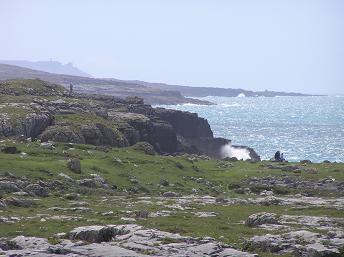 Clare- Tour.com gives you all the information you need to enjoy your visit to Clare. We've got articles on what you need to get here, how to travel around once you've arrived, and lots things you won't want to miss while you are in the Banner County - all this plus great offers on Car hire and accoomodation. Clare is a great county to visit from the Bunratty to the Burren and Lough Derg to the Cliffs of Moher there is a wide range of things to see and do during the day. At night live music and "craic" abound in the pubs. Being so close to the sea Clare has many fine sea food restaurants and whether you choice of accommodation is hotels, Bed and Breakfasts, hostels, caravan park or campsite you'll find a warm welcome throughout County Clare. If there is anything else you would like to see on Clare-tour.com get in touch with us here and let us know, we hope you enjoy your visit to Clare....
Ennis is located in the centre of County Clare Ireland on the river Fergus. It was on the main road from Limerick to Galway but it was by-passed in mid 2007. Ennis is a beautiful town and sees many visitors from abroad and other parts of Ireland. Ennis is the largest town in Co. Clare. Although architecturally it is an old town with narrow winding streets, today it is a progressive business and marketing town.
Come and visit Ennis Leisure Complex. Located in the heart of Ennis, our facilities include:25 metre swimming pool, Kiddie's Pool, Large, spacious fully equipped gym, Sauna and Steam Rooms, Motomed Machine for people with restricted use in their arms and legs.
Vandeleur Walled Garden & Centre Beautifully constructed walls enclose this sheltered Walled Garden which is set among 420 acres of native woodland. Once the forgotten garden of Kilrush House, home to the Vandeleur landlords.
County Clare has a wealth of rivers and lakes and miles of coastline, which means wherever you are in Clare you're not far from water. There is a wealth of boat trips and cruises to be enjoyed in this beautiful county.
Nestled in 1 500 acres of wooded countryside overlooking the panoramic Shannon estuary the Inn at Dromoland combines all the attractions of one of Ireland s leading resort hotels with a central location and a lively family atmosphere.