Clare-Tour.com Information for visitors to Clare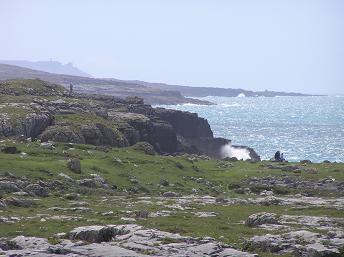 Clare- Tour.com gives you all the information you need to enjoy your visit to Clare. We've got articles on what you need to get here, how to travel around once you've arrived, and lots things you won't want to miss while you are in the Banner County - all this plus great offers on Car hire and accoomodation. Clare is a great county to visit from the Bunratty to the Burren and Lough Derg to the Cliffs of Moher there is a wide range of things to see and do during the day. At night live music and "craic" abound in the pubs. Being so close to the sea Clare has many fine sea food restaurants and whether you choice of accommodation is hotels, Bed and Breakfasts, hostels, caravan park or campsite you'll find a warm welcome throughout County Clare. If there is anything else you would like to see on Clare-tour.com get in touch with us here and let us know, we hope you enjoy your visit to Clare....
Shannon is located in the south east corner of county Clare Ireland. It is home of Irelands 2nd largest airport to which the town lends itís name. Shannon is an access point for county Clare for those flying from the UK, Europe and USA. There is plenty to do while in Shannon with swimming golf and playgrounds available for daytime enjoyment.
Bishops Quarter This picturesque strand near Ballyvaughan, North Clare, though stony in parts this long beach has stunning views across Galway Bay and of the Burren. This beach located few miles past the village on the R447 road from Ballyvaughan
The Burren Perfumery was founded 35 years ago at the centre of a quiet valley in the heart of the Burren. The Burren is a limestone plateau on the West Coast of Ireland, famous for its wildnes and the diversity of its plant life.
Driving is a great way to tour County Clare, many roads are relatively quiet and compared with many countries Irish motorists are uncompetitive, and have an easy driving style. Driving gives you great freedom, out on the open road you can stop when it's convenient to you; to walk down a country lane, to explore a picturesque shoreline or to take a picture.
Woodstock Hotel resides in a setting that is truly spectacular. It is surrounded by mature woodlands a lake a river and two historic forts. This is truly glorious countryside complimented by the impressive architecture of this magnificent hotel. Visitors are welcomed into a soaring reception area with marble floors stained glass windows
Located in a small village of Bunratty famous for the castle and folk Park Bunratty Castle Gardens provide a convient location with good proximity to both Shannon airport and numerous local attactions.