Doonbeg...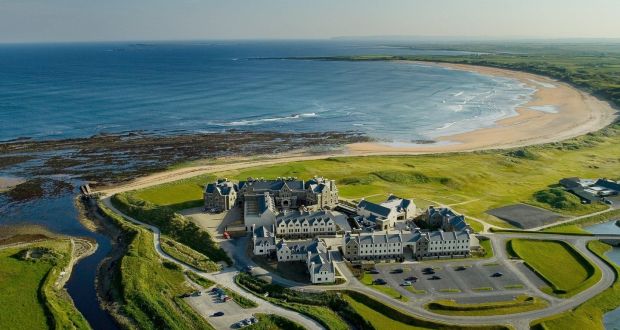 Doonbeg is located on the West coast of County Clare Ireland. It has a scenic landscape with Atlantic coastline, golden beaches, rare flora and fauna and, most of all, with its friendly atmosphere.

Visitors to Doonbeg have an excellent variety of holiday activities at their disposal from boating and angling in the deep sea or freshwater to enjoying sandy beaches or surfing, spa days or many more activities.

As Doonbeg is on the Wild Atlantic Way there are several beaches to choose from in Doonbeg each with its own special characteristics. White Strand has Blue Flag status and is a popular and very safe sandy beach for swimming. Closest to the village, Doughbeg is very safe for swimming with a gently sloping beach running into the calm waters of the bay. Doughmore is backed by world famous Trump International Golf Links, it is a 2.5 km long beach and has great surf but not suitable for swimmer's due to shifting sand. Furthest north is Clougher Strand the beach is accessible via a slipway from the road. Try exploring Doonbeg's white sand beaches from horseback; choose from two local riding schools or indeed go sea kayaking.

On seeing the wonderful sand dunes of Doonbeg, Greg Norman designer of Trump International Golf Links, remarked
"When I first saw this site I was speechless.
I didn't know such a piece of property existed anymore"


For nature lovers and bird watchers this is a home to many rare birds or dolphins are often seen off the coast. You can nature spot from a number of walking trails, which have been developed in the Doonbeg area. Most of the walks are suitable for cycling and are looped from the village, you can hire bicycles locally.
The coastline offers lots of possibilities for pier, beach and cliff
fishing
for bass, plaice, flounder and turbot. Additionally, you can book a sea angling trip out on the Atlantic for pollack, cod, mackerel, wrasse, shark and conger. Doonbeg River is famous for its Salmon & Sea trout as are the nearby Cree and Annageeragh rivers where brown trout and grilse could also be part of your catch.
The village is well catered for if you're looking for a pleasant evening out with a bit of Irish Music, dancing or perhaps a bite to eat. Several of the local,
pubs
have adjoining
restaurants
and most will have Irish music in the evenings throughout the summer. There is a variety of accommodation types for,
camping to
self-catering
,
bed and breakfasts
and of course the famous Trump International
Hotel
.
Doonbeg boasts a number of long running highly acclaimed festivals. The first beginning in March is the West
Clare
Drama Festival. Established in 1962 to foster, encourage and acknowledge the efforts of amateur drama groups in rural Ireland, it has grown in strength to a 10-day long
festival
in which full length plays by Irish and international writers are performed by amateur groups from all around the country. In June is the highly popular Doonbeg International Jazz Festival hosting many acts and bands from all over European and the British Isles as well as plenty of acts from throughout Ireland. August has the Doonbeg Currach Regatta and the year finishes with the Doonbeg Christmas Market, at Trump International Hotel, Doonbeg.