Ennistymon...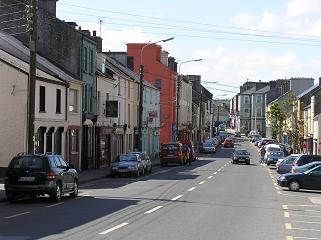 Ennistymon is a market town close to Lahinch, it is located in the north west of county Clare Ireland. It is the principle town of North Clare. The town is known for its old traditional shop fronts and the lively "craic" to be had in the pubs. Ennistymon is home of Daly's pub owned by the famous matchmaker Willie Daly.

Located near the edge of the Burren, Ennistymon makes an excellent base for a visit to the Burren, it is also a good base for those on a golfing holiday with courses such as Lahinch and Doonbeg quite close and the rest of Clare's courses within an hours drive. On fine days Lahinch blue flag beach is just 5 minutes drive away.

The town has lots of beautiful shops, you'll find art galleries, gift shops, cheese mongers, book shop, flower shop, health food shop and once a week a market is held.

North Clare has for centuries produced an outstanding array of writers and poets, storytellers and bards, hedge-school teachers and eminent scholars in diverse fields across the broadest spectrum of literature and learning. Aodh Bui MacCruitin from Kilmacreehy, Labhras O'hAinle and the MacMathuna's from Ennistymon and Seamus MacCruitin from Tullyvargan, Lahinch. The town was home of Caitlin MacNamara who married the Welsh poet, Dylan Thomas, and was regularly visited by the celebrated Welsh painter, Augustus John. The famous Irish poet Brian Merriman was born at the Falls Hotel in Ennistymon in 1749.

Ennistymon, is situated on the River Cullenagh, which at this point passes over the famous 'Falls'. These cascades can be viewed from the bridge or better still, from the river-side walk or the bar in the hotel which takes it's name from the falls.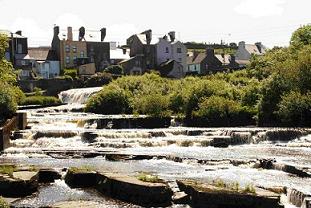 Until the late 1950s the
West
Clare
Railway also passed through the town, connecting it to
Ennis
and the West Clare coastal towns and villages, Ennistymon is mentioned in the Lyrics of the Famous song by Percy French about the railway.
The 'An Gorta Mor' Memorial was erected just outside Ennistymon to commemorate the memory of the victims of the great potato crop failures of 1845 to 1850 known as the Great Hunger (An Gorta Mor). It was dedicated on August 20 1995 - the 150th anniversary of that tragedy. Located across from a deserted workhouse and mass grave on the main road between Ennistymon and
Lahinch
. One side of the memorial depicts a child standing before the workhouse door, while across from this is the head of an anguished mother.
There are many types of accommodation available in Ennistymon from
hotels
to
bed and breakfasts
. Self catering accommodation is also widely available. There are a number of nice
pubs
in the village. Ennistymon is also home to a number of fine
restaurants
.