West Clare Railway...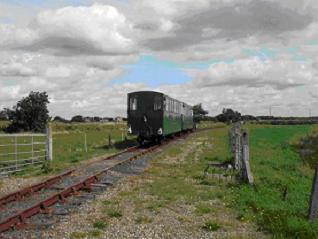 The West Clare Railway, situated at Moyasta Junction on the N67 coast road half way between Kilrush and Kilkee, is open all year round providing memories of Ireland's rural narrow-gauge travel in the first half of the twentieth century.

It is the railway that inspired Percy French's song, "Are Ye Right, There, Michael?" which made it world famous and the full story of which is told in its museum in the old station house along with relics of West Clare's rural and musical past.

A most interesting and historic collection of locomotive power is headed by the railway's own No 5, "Slieve Callan" of 1892, in full steam working order.


You can visit West Clare Railway's webpage at West Clare Railway
Or e-mail them by clicking here
The railway currently operates over 5 km of track at Moyasta but is now about to extend the line over the main road and run alongside the scenic delights of Poulnasherry Bay and the
Shannon
Estuary into
Kilkee
in accordance with its long-term plans for the future. The expectation is to link Kilkee and Kilrush once again by rail and to provide a full 3 foot gauge rail service to the public within the next 3 years.
Watch out for special events and "Santa Specials" in December.
Fully disabled-friendly. Teas and snacks available by prior arrangement. Coach tours welcome - particularly if by appointment. Check before coming for steam travel days.
email us or visit our web site by clicking on above link
Open 10 am - 5 pm weekdays and 12 noon - 5pm Sundays.
Tel: 065 905 1284 or email at address below