Killaloe...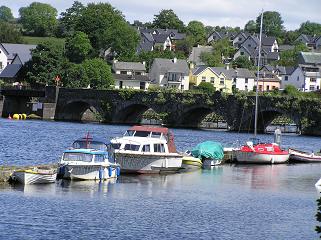 Killaloe is a Shannonside village located on the eastern Border of County Clare on the southern tip of Lough Derg on the Clare-Tipperary border 18 miles North West of Limerick City. It is the busiest fishing and boating centre in the Midwest region. The linked towns of Killaloe and Ballina offer history, a beautiful riverside setting and access to the Shannon waterway. A 13-arched stone bridge, separates the towns with Killaloe on the Clare side and Ballina on the Tipperary side.

Killaloe is starting point of what is known today as the "Shannon Cruise". From here it is possible to navigate all the way to Lough Key in Sligo, in the summer Killaloe is packed with mooring barges and holidaymakers making this popular trip.

Killaloe, is a network of charming narrow streets, flanked by old shops and houses, that climb up the steep hillside and look down over the 13th century cathedral. Slightly to the north of Killaloe , a new marina caters for the hundreds of leisure craft that make Killaloe one of the best centres for water activities. Watersports are the key to the popularity of Killaloe. You can hire boats of all kinds from rowing boats to cabin cruisers. Short tours of the River Shannon and Lough Derg are availible.

Killaloe has a wide range of quality accommodation to suit all budgets, ranging from hotels and bed and breakfasts to self catering accommodation. Killaloe has a nice variety of pubs which are well worth a visit on a warm summers evening or a cold winters one!.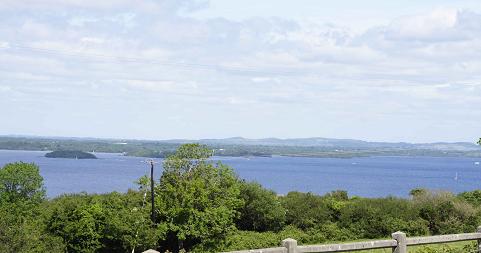 Killaloe was the birthplace of Ireland's famous High King, Brian Boru and he ruled the Kingdom of Ireland from here. There is a
festival
in his honor every year at the end of June. Killaloe is one of the principal crossings on the River
Shannon,
making it a strategic spot for defence and trading, as a result the area is rich in history and archaeology.
Killaloe's history is evident in its wealth of historic buildings and remains of ancient monuments; an earthen fort called Beal Boru stands about a mile outside Killaloe and it is widely thought that this was the site of Kincora - the palace of Brian Boru. St. Flannans cathedral in the town is also worth a visit. You can learn a lot about the area on one of the boat tours. Relax and unwind on a boat taking in the magnificent scenery, wildlife, heritage, legend and folklore. The town has been awarded the heritage town status because of its rich and historic past. Killaloe/Ballina offers a wide variety of shops, boutiques and craft retailers, as well as a Sunday Farmers Market.