Aillwee Cave...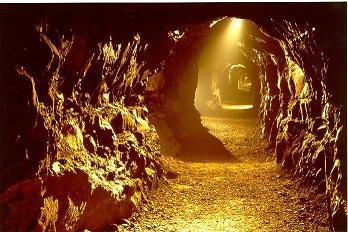 Ireland's Premier Show Cave

Located just a couple of miles south of Ballyvaughan, Aillwee Cave is Ireland's Premier show cave. There is a whole labyrinth of caves, pot holes, underground lakes and streams beneath the surface of The Burren, but Aillwee is the only one that can be explored without the aid of special equipment.

The Burren is a place full of wonder, beauty and discovery. At Aillwee Cave we welcome you to its underground surprises - a CAVE of beauty. Expert guides will accompany you during your leisurely tour. Take a 30 minutes stroll through the beautiful caverns, over bridged chasms, under weird formations and alongside the thunderous waterfall which sometimes gently sprays the unsuspecting visitor!


You can visit Aillwee Cave's webpage at Aillwee Cave
Or e-mail them by clicking here
Marvel at the frozen waterfall and explore the hibernation chambers of long-extinct brown bears. The guides bring you safely back to the outside world where you can shop in, and browse through distinctly different craft shop in the award winning building. Inside, there is a tea room with homemade scones available and a potato bar with various fillings added. Outside, there is a terrace where you can enjoy both a glass of wine and stunning views stretching away to the Connemara Mountains.
At the bottom of the hill is a farm shop and a dairy where you can watch and sample cheese being made. Introducing the
Burren
Birds of Prey Centre. The Centre is home to the largest display of Falcons, Harris Hawks, Owls, American Kestrels and White Tailed Sea Eagles in the country.
Email us or visit our web site by clicking on the above link