Bunratty Castle and Folk Park...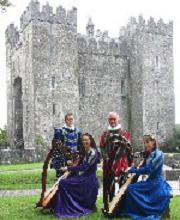 At Ireland's premier visitor attraction you are invited to explore two wonderful experiences - 15th century Bunratty Castle and 19th century Bunratty Folk Park.
The Castle,
built in 1425, is the most complete and authentic medieval fortress in Ireland. Restored in 1954 to its former medieval splendor, it now contains mainly 15th and 16th century furnishings, tapestries, and works of art which capture the mood of the times. You can marvel at the finest collection of medieval furniture in the country, which brings to life a vital part of our Celtic past.
Within the grounds is Bunratty Folk Park where 19th century life is vividly recreated. Set on 26 acres the
impressive Park features over 30 buildings in a 'living' village and rural setting. Meet and chat with the 'Bean an Ti' (Woman of the House) and
various street characters including the Policeman and
Schoolteacher who give the site its sparkle. Bunratty House, built in 1804 is now refurbished in typical Victorian style
while the formal Bunratty Walled Gardens are restored to the original
Regency period garden.
You can visit Bunratty Castle and Folk Park's webpage at Bunratty Castle and Folk Park
Or e-mail them by clicking here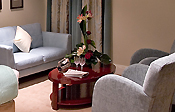 Enjoy the tastes, scents, sights and sounds as you stroll from house to house or around the charming village complete with school, post office, doctors house, and of course the pub!. It's a wonderful experience for adults and children alike with something for everyone to enjoy!
At night time the castle is the impressive setting for
Medieval Banquets
where one is treated to a feast of traditional dishes and where the famous
Bunratty
Singers, joined by the Earl of Thomond will delight you with music and song performing a variety of medieval and well-loved Irish songs.
If it is something a bit more traditional you seek then look no further that the Corn Barn in the Folk Park for the
Traditional Irish Night.
Experience the magic of Irish Traditional Music, song and dance performed by an array of talented entertainers. Guests are treated to a
welcome drink and to enjoy the traditional home cooked food with fine wines. The traditional Irish Night is a fun packed,
uplifting experience that will leave your hands clapping and your feet tapping!
For more information please contact
Shannon
Heritage on 061 360788
or email us or visit our web site by clicking on above link