Bunratty Castle and Folk Park ...
---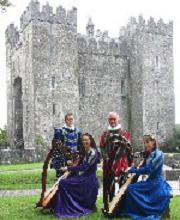 At Ireland's premier visitor attraction you are invited to explore two wonderful experiences – 15th century Bunratty Castle

and 19th century Bunratty Folk Park.





The Castle,

built in 1425, is the most complete and authentic medieval fortress in Ireland.

Restored in 1954 to its former medieval splendor, it now contains mainly 15th and 16th century furnishings, tapestries,

and works of art which capture the mood of the times.

You can marvel at the finest collection of medieval furniture in the country, which brings to life a vital part of our Celtic past.



Within the grounds is Bunratty Folk Park where 19th century life is vividly recreated. Set on 26 acres the

impressive Park features over 30 buildings in a 'living' village and rural setting. Meet and chat with the 'Bean an Ti' (Woman of the House) and

various street characters including the Policeman and

Schoolteacher who give the site its sparkle. Bunratty House, built in 1804 is now refurbished in typical Victorian style

while the formal Bunratty Walled Gardens are restored to the original

Regency period garden.