Craggaunowen...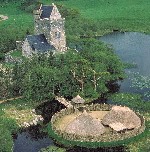 Craggaunowen - the Living Past Experience is situated on 50 acres of wooded grounds.
The Park interprets Ireland's pre-historic and early Christian eras. It features stunning
recreations of some of the homesteads which existed in Ireland over 1000 years ago.

Explore the Crannog,an ancient artificial island used for a settlement.
the Ringfort,an enclosed settlement the Medieval Castle
and the Brendan Boat a leather hulled boat built by Tim Severin, who against
all odds sailed across the Atlantic re-enacting the voyage of St. Brendan
reputed to have discovered America centuries before Columbus.


You can visit Craggaunowen's webpage at Craggaunowen
Or e-mail them by clicking here
Enjoy thee fresh air and lake walks in a most enjoyable rural setting.
Savour the wonderful home made fare in the charming
farmhouse tea-room
.
For more information please contact
Shannon
Heritage on 061 360788
or email or visit our web site by clicking on above link