Holy Island...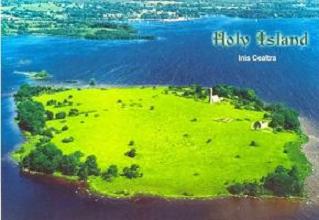 Holy Island Pilgrimage Site.

To go to Rome,
Is little profit, endless pain
The Master that you seek in Rome
You'll find at home, or seek in vain.


[Translated from the Irish, by Frank O'Connor 1903-1965]

Holy Island in Scariff Bay is one of the most famous monastic sites in Ireland. There are bullaun stones from pagan times, a ring fort from the Iron Age, big and small churches, High Crosses, a Round Tower, principal cemeteries, satellite cemeteries, a cillin (children's graveyard), ancient grave markers, pilgrim paths and stations, a holy well, a kissing stone and a bargaining stone. The result is a confusing and gradual addition of new features over several centuries. Its secluded position has enabled it to survive in an excellent state of preservation.


You can visit Holy Island's webpage at Holy Island
Or e-mail them by clicking here
In 1608, Inis Cealtra or Holy Island was one of the 'Notable Shrines' in Ireland to which Pope Paul V attached a Plenary Indulgence at the request of the Earls, who had fled to Rome. The Flight of the Earls is still regarded as one of the pivotal episodes in Irish History. The Island became famous after the intervention of the Pope and for the following 250 years it was one of the most popular pilgrimage sites in Ireland.
In 2008, the 400th anniversary of the Pope's intervention will be commemorated. It will primarily be about pilgrimages to this mysterious and beautiful place. The Island Monastery was a centre of Pilgrimage for hundreds of years before this event and the presence of two shoes - not feet - inscribed on a 10th Century grave marker indicate the resting place of a pilgrim.
There are daily boat trips to Holy Island from Mountshannon Pier from April to October.
Visit our web site or email us by clicking on above link