Knappogue Castle and Walled Gardens ...
---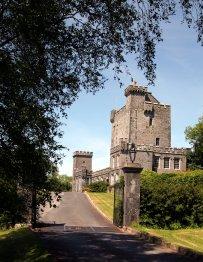 Don't miss this truly magnificent medieval castle
in the unspoiled and idyllic landscape of Quin, Co. Clare.
Knappogue Castle, built in 1467 by Sean McNamara, son of Sioda
(who built Bunratty Castle)
has a long and varied history. In 1571 the castle became
seat of the MacNamara Clan, Earls of West Clancullen.
In 1641 it was occupied by Oliver Cromwell's troops
but later returned to the MacNamara family who sold it
to the Scots in 1800.