Ennis Friary...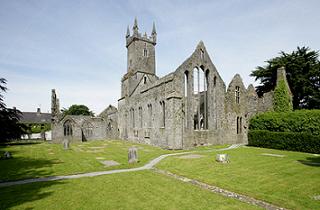 Ennis Friary is a late thirteenth century Franciscan Friary, founded by the O'Briens. It's a wonderful building with numerous fifteenth and sixteenth century sculptures carved in the local hard limestone. The chancel is lit by the magnificent east window and some fine examples of gothic windows are evident in the transept.

Walking around it is clear that these were once very impressive buildings indeed, and give a glimpse of how it must have looked at its height. The carving of St Francis displaying his stigmata, and the magnificent MacMahon tomb, dating from 1470 and with elaborate scenes from the passion of Christ, are highlights of a visit.

Although a ruin now, Ennis Friary was once home to over 300 Franciscan Friars and 600 students. It was established in 1240 when the Franciscans (a Catholic Order) were invited to the area and given land by Donncha O'Brien, King of Thomond. Both the powerful O'Brien family and later the MacMahons and the MacNamaras continued to provide support to the community there for centuries afterwards.

The Friary grew in importance to become an important centre of learning and not only in Ireland, it was renowned throughout Europe. It became a large complex, the church surrounded by cloisters, dormitories, workshops, a huge kitchen and refectory - not surprising when at it's height almost 1000 people lived and worked within its confines.

So great was this ecclesiastical settlement, the town of Ennis grew up around it, providing services and supplies to the Friars and catering for the many visitors who travelled often great distances to study and pray there. The Friary was at the height of its power by 1500AD.


You can visit Ennis Friary's webpage at Ennis Friary
Or e-mail them by clicking here
In 1531 a law was passed which made Catholic Monasteries and Friaries close down and it became difficult to preach and teach openly. The Friary held on tenaciously, though in a much reduced form, until it ceased to exist in the 1690s. Its few remaining friars lived among the local people in semi-hiding. The building was given to the Protestant Church and later trusted to the state.
The Franciscans did not give up though and struggled through those tough years. When the laws were change a new Friary was built in
Ennis
and two sister branches were built. They have a close relationship with the local parish, and it's hard to imagine the town without the Friars.
Visiting Ennis Friary
The Friary is open from April to September, with guided tours available. The tours take about 30 minutes and are well worth doing. Tours can also be organised for groups by arrangement at other times of the year.
Opening Arrangements: April - Sept 10.00 - 18.00 Oct - 10.00 - 17.00 Last admission, 45 minutes before closing
Tel: 065 6829100
email us or visit our web site by clicking on above link
Photo courtesy of Dept of Environment, Heritage and Local Government.