Vandeleur Walled Garden & Centre ...
---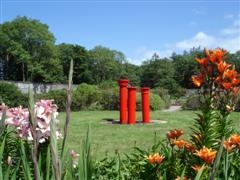 Beautifully constructed walls enclose this sheltered Walled
Garden which is set among 420 acres of native woodland.
Once the forgotten garden of Kilrush House, home to the Vandeleur
landlords, this garden has been redesigned for the 21st Century
around the old path system with a horizontal maze, unusual
water-features and a free-standing Victorian-style working
glasshouse which is assessable to visitors. Unusual and tender
plants that thrive in the area's uniquely western latitude
microclimate invite to stroll around.