Irish Cycling Safaris ...
---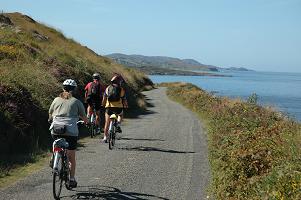 Irish Cycling Safaris is an award-winning, family-run company that provides cycling tours in Ireland and Europe.

Our first peddle into the Irish countryside was some 19 years ago. Since then we have entertained thousands of cyclists. Despite the company's growth to become one of the leading activity holiday providers in Ireland, we have maintained the same approach to our tours as that first excursion in 1989.

The cornerstone of our company has been our commitment to provide quality tours at reasonable prices, whilst encouraging sustainable tourism. Our philosophy continues to be to create easy going to moderate cycling trips along rural back roads bringing us into the heart of the great outdoors and local cultures.

We hope to share our local knowledge of the most interesting and breathtaking parts of Ireland while making people feel welcome to our shores.

Irish Cycling Safaris organise many different types of cycling holidays. The main tours are the Group Tours, where we take care of all accommodation and bicycles, we provide a local guide, as well as all the cycling equipment you need - and best of all, we carry your luggage for you - taking away all of the hassles, but none of the adventure of your holiday.All you have to do is enjoy a week of guilt free lunches and long-lasting camaraderie!

We also organise "individual / self-led" tours. On these tours we arrange luggage transfers and accommodation and you head off on your own with a detailed map and route descriptions.