Aloha Surfschool...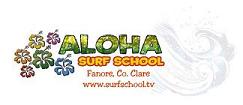 Aloha Surf School runs surfing lessons in the heart of the Burren at Fanore Beach, Co. Clare, Ireland.

Because of it's relative remoteness from heavily populated centres, it does not enjoy the fame attached to less attractive but better known surf destinations in Ireland such as Lahinch. All the better for those who go there! The beautiful Fanore Beach with all it's space, solitude and uncrowded surf provides the ideal location for those wanting to learn to surf. Surfing with Aloha Surf School in Fanore allows surfers to escape the masses and really enjoy the surfing experience.



Aloha Surf School offers professional surfing instruction for people of all ages and abilities. No experience necessary and all equipment is provided.

All surf lessons are conducted in a supportive, fun environment with an emphasis on safety and enjoyment. They run surfing lessons for adults, group and individual lessons and also kids surf lessons in the 5 day Kids Camps.

Surfing Lessons are 2 hours long and take place in waist depth water under the careful supervision of their surfing instructors who are in the water with the surfers at all times.


You can visit Aloha Surfschool's webpage at Aloha Surf School
Or e-mail them by clicking here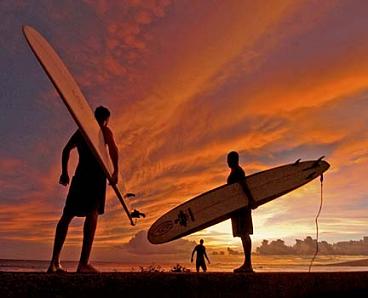 At Aloha you´re not just another sheep in the flock! So unlike other schools the groups are kept small, so surfers greatly benefit from the close personal attention of the professional instructors who are all qualified RLSS Beach Lifeguards and ISA Surfing Instructors.
While the focus of the surf lessons is learning to surf, you will also gain valuable information regarding surfing etiquette, beach safety and knowledge of the ocean. The first section of the surf lesson consists of some dry land exercises where you will learn the techniques of wave selection, paddling, catching the wave and then standing up; the reason you're here!! Practising the skills on a stable surface makes it easier to learn the right techniques before taking the plunge. The second section of the lesson is out there in the surf putting all that you've learnt into practice. They provide special soft boards for beginners, wetsuits and wetsuit booties. So all you need is your swimming kit, towel and lots of energy!
Aloha Surf School
is an Irish Surfing Association Approved Surf School
So what are you waiting for? Don't let another summer pass you by........
For more info or to make a booking you can contact them by phone
phone: 00 353 (0)87 21 33 996 or email click on above link.
Clare Activities
Aloha Surf School
-
Clare beaches
-
Burren Adventures Dive Centre
-
Caving, Pot-holing and Mountaineering
-
Children's Activities
-
Cruise / Boat Trips
-
Dolphin Discovery
-
Dolphinwatch
-
Doolin Pitch & Putt
-
Ennis Leisure Complex
-
Golfing and Pitch 'n' Putt
-
Lahinch Surf School
-
Loop Head Adventures
-
University Limerick Activity Centre
-
Walking, Hiking and Cycling
-
Watersports and Fishing
-