Dolphin Discovery...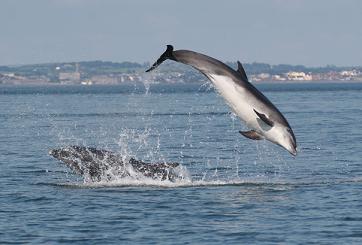 Take a Trip to meet the Shannon Dolphins

The Shannon Estuary is home to Ireland's only resident group of bottlenose dolphins. Over 100 individual dolphins have been observed using the estuary at different times. Dolphins are curious, playful, unpredictable animals, whose charming antics are bound to amaze and delight you. Experience the excitement of seeing them leap clear out of the water or swim alongside the boat. Calves, born each year between May and August, offer a delightful bonus when encountered with a group.

Boat trips depart Kilrush Creek Marina from April to October to observe these exuberant creatures in their natural habitat. Each trip lasts 1 ½ to 2 hours with 3-4 sailings operating daily in peak season. Due to demand prior booking is advisable.

Why not hop on board the 'Dolphin Discovery' today for an unforgettable encounter with these enchanting marine mammals?


You can visit Dolphin Discovery's webpage at Dolphin Discovery
Or e-mail them by clicking here
Bookings
Telephone: 00 353 65 905 1327
or email or visit the web site by clicking on above link.
Or call to our office at Kilrush Creek Marina building.


Also Available: Boat trips to Scattery Island Scattery Island is a 6th century monastic settlement founded by St. Senan and located in the Shannon Estuary 15-20 minutes from Kilrush Creek Marina. Once ashore on the island you will be greeted by experienced tour guides, who will explain the history of the island as they lead you around a 120ft round tower, the ruins of six churches and a village.

Trips take place daily from Kilrush Creek Marina. Sailing times may vary due to tidal conditions on the island.